Epidermal Systems Biology
Junior Research Group for Epidermal Systems Biology
Group Leader: Dr. Niels Grabe
JRG Epidermal Systems Biology
The work of this Junior Research Group (JRG) aims at developing a systems biological model able to predict properties of epidermal tissue in healthy and diseased state. The models are validated by their ability to predict epidermal morphology, tissue kinetics and molecular concentrations reported in literature.
All organisms have an epidermis that delimits the body and separates it from the environment. Its main functions include protection against physical damage, defence against biological invasion, the regulation of the inward and outward passage of materials, and the receipt and transmission of signals to other organisms. The epidermis is an ideal example for studying tissue homeostasis.
Firstly, understanding epithelial tissue is of clinical relevance as over 90% of all cancers arise in this tissue type.
Secondly, it consists of mainly one single cell type, the keratinocyte, which moves progressively from attachment to the epidermal basement membrane towards the skin surface.
Thirdly, epidermis is one of the most complex epithelia. The epidermis has a lower, basal part with dermal infoldings, termed rete-ridges. Increasingly differentiated cells form the middle part (stratum spinosum), while its upper part (stratum granulosum) abruptly forms a flat surface. The outmost stratum corneum then forms the functional barrier to the outside world, consisting of dead cells (corneocytes) and a lipid mixture.
Projects
PublicationsFor further information below is a picture showing a histological vertical cut through the epidermis.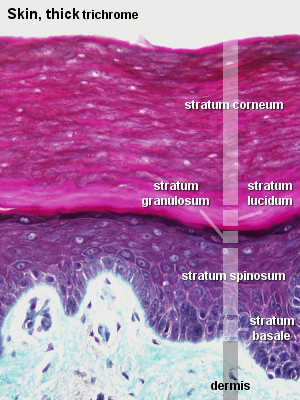 (Source)
The strength of the undulations varies strongly between samples as can be seen from the following image.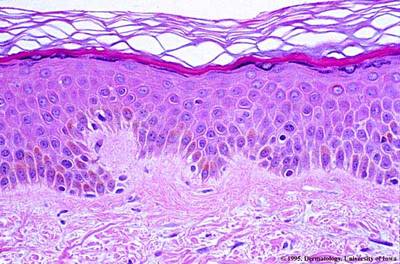 (Source)
For a comparison in the following a picture of our computer simulation EPISIM is given for layers stratum basale up to the stratum granulosum.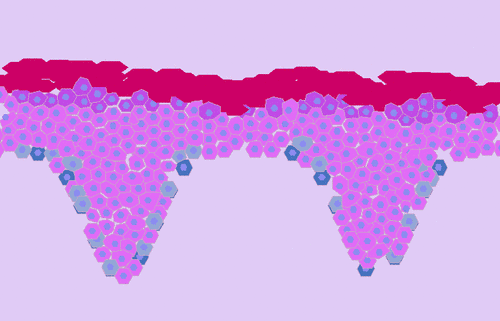 The goal of our work is not to reproduce an exact image of the epidermis, instead to model intrinsic molecular processes taking place. For example, the last image can show the calcium gradient throughout epidermis during the simulation. The extracellular calcium concentration is an important factor for central molecular processes of epidermal function.