Mona
Overview
Mona is an interactive tool that can be used to prepare and visualize large small-molecule datasets. 
A set centric workflow allows to intuitively handle hundred thousands of molecules. Building upon the robust 
framework Naomi common cheminformatics tasks such as analysis, filtering and converting of molecular files
can be performed with high efficiency.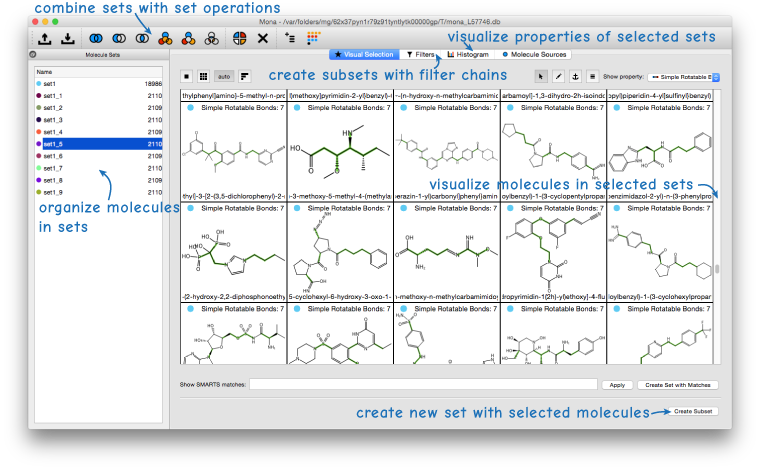 Screenshot of Mona
Download
Mona is freely available for academic use for Linux, Windows and Mac OS X. Non-academic users can get an evaluation licence free of charge. No setup steps are needed to run Mona. All feedback (mona(at)zbh.uni-hamburg.de) is highly appreciated.
Mona is part of the AMD tools software bundle. To download Mona, register at https://software.zbh.uni-hamburg.de.
Documentation
Step by step solutions for common cheminformatics tasks are shown here.
People and references
Mona has been developed by Matthias Hilbig and Sascha Urbaczek in the research group of Prof. Matthias Rarey at the Center for Bioinformatics of the University of Hamburg.
Please cite Mona with:
Matthias Hilbig; Matthias Rarey (2015). MONA 2: A Light Cheminformatics Platform for Interactive Compound Library Processing. Journal of Chemical Information and Modeling, 55(10), 2071ff.
Hilbig, M.; Urbaczek, S.; Groth, I.; Heuser, S.; Rarey, M. (2013). MONA - Interactive manipulation of molecule collections. Journal of Cheminformatics, 5 (38).