SMARTSeditor
Overview
The SMARTSeditor is a graphic editing tool for generic chemical patterns. Based on the SMARTS language, chemical patterns can be created and edited interactively, similar to molecule editing in a chemical structure editor. The visualization of patterns is based on the visualization concept of the SMARTSviewer. The SMARTSeditor supports editing of given SMARTS or editing of chemical pattern without knowledge of the SMARTS language from scratch. It supports logic combinations as well as atom environment definitions. The generated pattern is converted into a SMARTS string which can be used in any application where the pattern is needed, e.g. for filtering of molecule databases.
The latest SMARTSeditor version now contains a new feature: The SMARTSminer, which automtically generates discriminating patterns for two given sets of molecules. Along with this feature, now a user can load molecules sets into the SMARTSeditor and immediately see the matching results highlighted.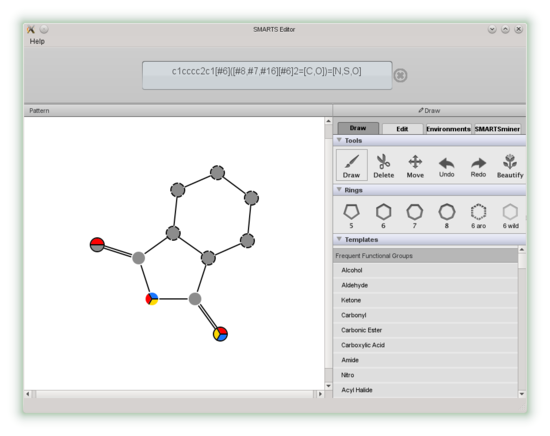 Screenshot of the SMARTSeditor
 

Download
SMARTSeditor is freely available for academic users for Linux, Windows and Mac OS X. Non-academic users can get an evaluation licence free of charge. Nearly no setup steps are needed to run SMARTSeditor. All feedback (smartseditor(at)zbh.uni-hamburg.de) is highly appreciated.
SMARTSeditor is part of the AMD tools software bundle. To download SMARTSeditor, register at https://software.zbh.uni-hamburg.de.
Documentation
Step by step solutions for common cheminformatics tasks are shown here.
Limitations
The SMARTSeditor so far does not support disconnected SMARTS and stereo specifications
The SMARTSeditor is still in a development status and any feedback (smartsview(at)zbh.uni-hamburg.de) is appreciated.
People and references
SMARTSeditor has been developed by Lars Wetzer, David Seier, Stefan Bietz and Karen Schomburg in the research group of Prof. Matthias Rarey at the Center for Bioinformatics of the University of Hamburg.
Please cite the SMARTSeditor with: Schomburg, K. T., Wetzer, L., Rarey, M. Interactive Design of generic chemical patterns, Drug Discov Today (2013) 
http://dx.doi.org/10.1016/j.drudis.2013.02.001
For further reading on the new SMARTSminer feature please see:
Bietz, S. Schomburg, K. T. Hilbig, M. Rarey, M. (2015). Discriminative Chemical Patterns: Automatic and Interactive Design. Journal of Chemical Information and Modeling, 55 (8), 1535ff.
http://pubs.acs.org/doi/abs/10.1021/acs.jcim.5b00323